Welcome to Our Center
Quality Thru Dedication Since 1995
Started in the year 1995 with a view to give quality education at low cost. Our center has ample space to accomodate students. Each student is evaluated through out his course here. Individual performance can be watched by parents.
Read More
Individual Approach to Education!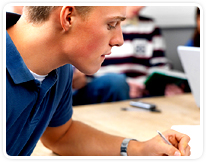 Our basic aim is to provide individual attention to each of the students
For achiving this, we will be taking limited students in each slots. For weak students, special attention is given by taking seperate classes in holidays and sundays. Periodic tests will help us in evaluating students performance.
New Programs
Latest News